New Patients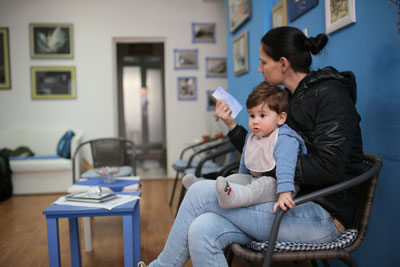 Welcome to Krauza Family Chiropractic! At our friendly practice, you'll notice lighter energy here. It's a place where people can feel at ease and more relaxed.
When you call to make your new patient appointment, we'll email you your new patient paperwork.
Here, you'll be greeted warmly as a person, not as a walking condition. We're more concerned about you and getting to know you as a person. We want to better serve you. That's possible when we know where your problems are coming from.
Our receptionist will take your paperwork and any insurance information. Patients can trust that they'll be seen right at their appointment time.
Next, you'll meet with Dr. Krauza for the following:
A consultation to discuss your current condition and health history
An evaluation including scans with the INSiGHT Subluxation Station (thermography, surface EMG and heart variability)
He will review all of the results with you in detail. Next, you and Dr. Krauza will go to an adjusting room. He'll explain the process and then provide you with your first chiropractic adjustment.
If your paperwork is completed, your appointment will take 30-40 minutes. If you choose to fill out your paperwork in the office, please allow up to an hour.
You will typically come in a few days after your first appointment as a follow-up visit. Dr. Krauza will discuss how you responded to care. He'll give you copies of your exams that we did with the INSiGHT Subluxation Station. Based on his findings, Dr. Krauza will provide his recommendations for care.
After two weeks, he'll reevaluate you with INSiGHT to see what types of changes we've made. If you're feeling better and the scans look better, then you're good to go. You can come back in as needed. If, however, your scans indicate that more work needs to be done, Dr. Krauza will recommend you come in for a more extended care plan.
This appointment is much briefer at about 10 minutes.
Ongoing visits will be fairly quick at about 10 minutes. If you have any questions, please feel free to ask them. Dr. Krauza is very efficient. He can provide your adjustment, answer any questions or concerns and get you back to your day.
If you're coming in for maintenance care, Dr. Krauza will rescan you about once a quarter. If you've been injured in an auto accident or had another type of injury, he'll scan you more frequently.
If you have a new issue such as an injury that requires attention, we can provide you with a longer visit of about 20-30 minutes.
Financial Information
Making our chiropractic care as accessible as possible is important to us. You don't need insurance to get care here. We provide affordable payment options for patients of all ages and families of all sizes.
Contact our Erie office today to book an appointment!
CONTACT US »
---
New Patients | (814) 898-2346